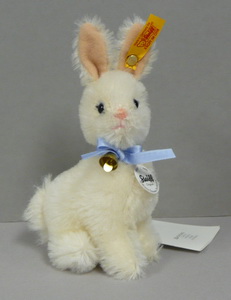 Steiff Williams-Sonoma
mohair bunny
white




The Williams-Sonoma bunny, is 12 cm (.4.75 inch) in size and made from white colored mohair. Celebrating a tradition dating back to 1880, Steiff animals are "forever" toys that are passed down for generations. This bunny is visiting from his magical woodland just for the season. He is based on a classic bunny pattern from the Steiff archives. He is stuffed and stitched by hand such that each bunny has an expressive face and one-of-a-kind personality. It has hand-airbrushed details and comes with a Williams-Sonoma exclusive chest tag, satin ribbon and little bell. This bunny is not limited (yellow ear-tag), does not come in a box and does not have a certificate of authenticity.
EAN 682797
Sale price: US $ 95.20 / Euro 95,20
Normal price: US $ 119.00 / Euro 119,00
No Free Shipping on this item.
Orders must be placed by phone and/or email
Call: 800-559-4585
Email: info@bearattack.com