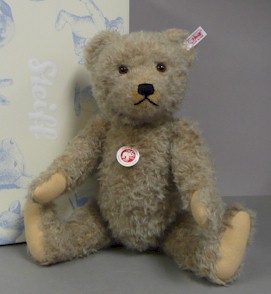 Steiff Jonathan
mohair Teddy bear
gray/beige


The Jonathan Teddy bear,, is 43 cm (17 inch) in size, 5-way jointed, has a growler, is made from gray/beige colored mohair and is limited to 1500 pieces. The 1950's saw the "Economic Miracle" in Germany and the "Baby Boom" in the United States. It was also a period of rapid growth for France, Great Britain, and Japan. During this time, Steiff introduced the "Original Teddy" - a design that would become synonymous with the post-war years. Inspired by this classic style, Steiff designers have created "Jonathan" as a brand new tribute to all those who fondly remember those simpler times. This magnificent Teddy bear is made to look slightly worn. The plush has a few interwoven black mohair threads to add interest. With dark brown eyes and hand-stitched features, Jonathan perfectly captures a memorable period in the history of Steiff. Jonathan comes in a box with a certificate of authenticity.
EAN 034411
Sale price: US $ 316.00 / Euro 239,20
Normal price: US $ 395.00 / Euro 299,00
No Free Shipping on this item.
Orders must be placed by phone and/or email
Call: 800-559-4585
Email: info@bearattack.com