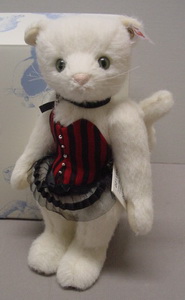 Steiff Pussy alpaca cat
white


Pussy cat, is 22 cm (8.75 inch) in size, 5-way jointed, is made from white colored alpaca and is limited to 1111 pieces. Fancy a little game? Whether baccarat, poker or roulette, Pussy Cat knows them all! In the casino, she places cards and chips with an innocently coy look. She trumps, enchants - and wins: including every heart. The distinctive feminine Pussy Cat has green cat eyes. Her mouth and nose are hand-embroidered in delicate pink. She wears a red-black striped corsage with a tulle edge. Silver, appliqué beads are suggestive of hook fasteners, a black satin ribbon on the little black tulle skirt and the sparkling bow on the satin neckband make Pussy Cat´s outfit perfect. Pussy cat comes in a box with certificate of authenticity.
EAN 021190
Sale price: US $ 172.00 / Euro 135,20
Normal price: US $ 215.00 / Euro 169,00
No Free Shipping on this item.
Orders must be placed by phone and/or email
Call: 800-559-4585
Email: info@bearattack.com