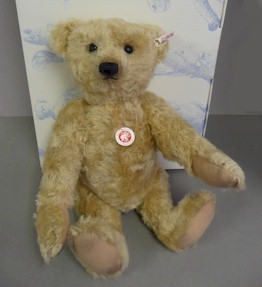 Steiff Grand Old mohair bear
blond

The Grand Old bear, is 50 cm (19.5 inch) in size, 5-way jointed, made from blond colored mohair and is limited to 1000 pieces. A decade ago, a Steiff retailer arrived at her shop to find a large vintage Teddy sitting at the front door. It was accompanied by a note which explained that the original owner was no longer able to care for the beloved bear, "I know you'll find him a good home," read the note. It was this touching story that inspired to create the "Grand Old Bear". For extra authenticity, the Steiff artisans have airbrushed subtle signs of age on his snout and paw pads. "Grand Old Bear" captures all the charm and appeal of the original while keeping his heartwarming history alive for generations to come. He comes in a box with a certificate of authenticity.
EAN 682728
Sale price: US $ 420.00 / Euro 420,00
Normal price: US $ 525.00 / Euro 525,00
No Free Shipping on this item.
Orders must be placed by phone and/or email
Call: 800-559-4585
Email: info@bearattack.com