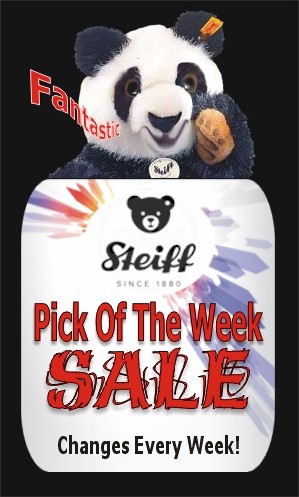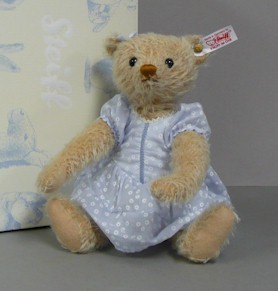 Steiff mohair
Alissa Teddy bear
honey


The Alissa Teddy bear, is 26 cm (10.25 inch) in size, 5-way jointed, head is loosely attached to the body, made from honey colored mohair and is limited to 1500 pieces. Since its publication in 1865, millions of children (and adults) have enjoyed the "Alice in Wonderland" stories as books, films, comics, television specials, and even video games. Now, it's Steiff's turn to bring these legendary tales to you. The Alissa Teddy bear embodies the essence and spirit of this beloved character and her celebrated journeys. For her adventures, she is dressed in a pale blue cotton outfit that's perfect for going "down the rabbit hole". You'll want to come along as she meets new friends (including the Mad Hatter and White Rabbit) and experiences the magic of Wonderland. Like the books upon which her character is based, the Alissa teddy bear is sure to become a classic. Alissa comes in a box with a certificate of authenticity.
EAN 035135
Sale price: US $ 180.00 / Euro 135,20
Normal price: US $ 225.00 / Euro 169,00
No Free Shipping on this item.
Orders must be placed by phone and/or email
Call: 800-559-4585
Email: info@bearattack.com