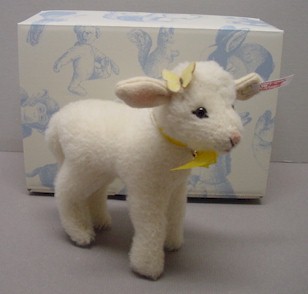 Steiff wool plush
Lilly lamb
white


The Lilly lamb, is 14 cm (5.5 inch) in size, 1-way jointed, made from white colored wool plush and is limited to 1500 pieces. As warmer weather approaches, the birth of baby lambs signals the arrival of spring. Lilly lamb is a perfect reflection of the season. As she frolicked through the meadow, Lilly befriended a little yellow butterfly, who is perched gently atop her head and is cut from wool felt. Delicate hand painting brings both to glorious life. Around her neck, Lilly wears a yellow organza ribbon with a tiny golden bell. Her neck is jointed so you can pose her as you wish. Lilly comes in a box with a certificate of authenticity.
EAN 034473
Sale price: US $ 104.00 / Euro 79,20
Normal price: US $ 130.00 / Euro 99,00
No Free Shipping on this item.
Orders must be placed by phone and/or email
Call: 800-559-4585
Email: info@bearattack.com